Lausanne's old shops and cafés
The history of a town is closely linked with its shops and cafés which have served the townspeople for several generations.
When one takes a look at those established for more than a 100 years, it is interesting to see how tastes and customs have changed. We tell you about the history of their founders and their successors.
During the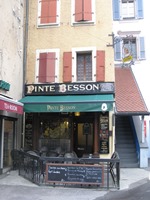 walk one will see some old cafés, shops, which have kept the same name selling chocolates, clothes, jewellery, tobacco, and some hotels.
When

Throughout the year, except Sundays and Public Holidays as well as Wednesday and Saturday because of the markets (according to availability of a guide).

Time

By appointment

Booking

Minimum 4 working days before the visit

Departure

Place de la Riponne – near the Fountain (see map)

Length

1 to 2 hours approx.

Price

Prices

Adults :
CHF 75.- 1 - 10 persons,
CHF 5.- per additional person
Children accompanying :
Free
Schoolchildren up to the age 16 in Swiss schools :
Free
Children in other schools and those in higher education :
CHF 50.-
Foreign groups :

Booking 2 weeks ahead
Advanced payment.

Maximum 20 persons per guide

Book

Transport

TL lines :

- Stop Riponne-Maurice Béjart (lines 1, 2, 7, 8, 16, 18, 60, métro M2)


Parking : Riponne

Contact

visites(at)lausanne-a-pied.ch
Phone +41-21-320 12 62, Monday-Friday, 8:30-12:00