Three hills and two watercourses
Why don't you take an unusual tour through the meanders of the town centre, and on various levels, with a mixture of reality and history ?
You will discover parts of Lausanne, which you would have never imagined existed !
These days it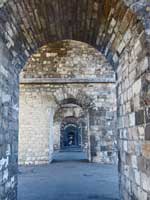 is difficult to understand why it was decided to develop an important city on such a tortuous and scarcely propitious site.
To reply to this question, one should note that during more than a thousand years, Lausanne was gradually made up of small neighbourhoods. These then joined together from the top to the bottom of the steep hills at the foot of the Cité, dominating the unavoidable passages over the Flon and the Louve rivers.
Modernization came with the construction of the bridges linking the three hills, thus essentially removing the unfavourable environment. Nevertheless the heart of the city has managed to keep an identity, an atmosphere, in a word, a special charm.
When

Throughout the year, except Sundays and Public Holidays (according to availability of a guide).

Time

By appointment

Booking

Minimum 4 working days before the visit

Departure

Montbenon, in front of statue of Alexander Vinet (see map)

Length

1 to 2 hours approx.

Price

Prices

Adults :
CHF 75.- 1 - 10 persons,
CHF 5.- per additional person
Children accompanying :
Free
Schoolchildren up to the age 16 in Swiss schools :
Free
Children in other schools and those in higher education :
CHF 50.-
Foreign groups :

Booking 2 weeks ahead
Advanced payment.

Maximum 20 persons per guide

Book

Transport

TL Lines :
- Stop Montbenon (line 13)


- Stop Saint-François (lines 1, 2, 4, 6, 8, 9, 13)

- Stop Flon (metros M1, M2, LEB)


Parking . St-François

Contact

visites(at)lausanne-a-pied.ch
Phone +41-21-320 12 62, Monday-Friday, 8:30-12:00